It's another one of those weeks where the news cycle is dominated by climate change.  The first week of December last year saw  Josh Frydenberg announce that the impending climate policy review would consider an emissions intensity scheme  (something the Business Council now wants,  perhaps quietly regretting that they cheered on Tony Abbott as he repealed Julia Gillard's Emissions Trading Scheme?)
Frydenberg's words sent Cory Bernardi, Christopher Pyne and others ballistic. The very next day Frydenberg was back on the airwaves denying he had said what everyone heard him say, pouring cold water over the idea. Another backflip in the long history of backflips on climate and energy policy.  The following day, Malcolm Turnbull at the fish market, scotched the EIS idea altogether, proclaiming it to be another carbon tax.   All this before chief scientist Alan Finkel produced the first report of his review into Australian energy security.
At the beginning of February we had another intense week – Turnbull spoke at the National Press Club saying that coal would be the foundation of Australian energy generation for decades to come; followed by Resources Minister Matt Canavan talking of "clean coal" and suggesting the Clean Energy Finance Corporations rules could be changed to allow public funding (since investors clearly were not interested).  Days later ended with Treasurer Scott Morrison brandishing a lump of coal and cooing "This is coal… Don't be afraid…  don't be scared." (And has since boasted about this to radio shocking jock Ray Hadley.)
As one astute  journalist wrote three years ago it's part of
"a long campaign to redefine the stuff that comes from burning coal as a "colourless, odourless gas", a harmless three-way cuddle between one carbon and two oxygen atoms that, happily, provides "plant food"
Morrison's stunt was an echo of US Senator James Inhofe's infamous snowball stunt of a couple of years previously.
A third such climate-and-energy week has ensued. Last Friday Elon Musk grabbed headlines around the world by tweeting a 'done and dusted in a 100 days or free' offer on 100MWh of battery storage. He had talks with both SA Premier Jay Weatherill and Malcolm Turnbull, both of which were poured over by journalists and analysts. On Tuesday the SA government announced a six point energy plan, which involved funding a new gas fired power station, a tender for battery storage, a change in royalty payments to ease gas exploration and new powers for the SA government to intervene in the National Energy Market.  This last point was predictably rubbished by the Federal Government, with Environment Minister Josh Frydenberg muttering about consulting lawyers.
Then Malcolm Turnbull, pre-empting the Finkel Review it commissioned in response to the September 2016 South Australian blackout, let alone the climate policy review (remember that?),  proposed an expansion of the Snowy Mountain Hydro Scheme (a nation building project from 1947 to 1974 is the largest engineering project undertaken in Australia, brought in under budget and before time), this time to ensure not additional energy production, but storage.
While Jay and Josh were having an extraordinary stoush in a suburban garage in Adelaide Malcolm Turnbull was touring that hydro scheme and could not help but say
"In one hour it could produce 20 times the 100Mwh expected from the battery proposed by the South Australian government but would deliver it constantly for almost a week (or 350,000 Mwh over seven days),"
It is almost exactly a year ago that Donald Trump assured voters that fellow Republican candidate Marco Rubio was wrong to cast aspersions about the size of his, um, hands….
In terms of childishness, well Lenore Taylor summed it up beautifully –
"And sometimes the leader of the nation can join the policy discussion only by disguising his good ideas in a drizabone and bush hat, lest they be recognised for what they are by his own colleagues."
A picture is worth a thousand words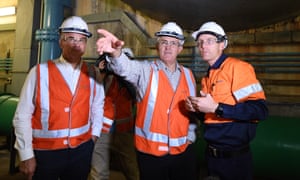 "Malcolm Turnbull tours the Tumut 3 power station while announcing the government's plan for a major expansion of the Snowy Hydro Scheme. Photograph: Lukas Coch/AAP." Source: Guardian article here.
The photo accompanying the article, by  Lukas Coch of Australian Associated Press shows Turnbull, in obligatory hard hat and fluoro and wearing safety goggles pointing into the distance,  predictably flanked by two other men.  Readers with long memories and cynical dispositions may recall that in  July 2014 Senator Ian MacDonald came to parliament in a fluorojacket, provided to him by the same people who gave Morrison his lump of lacquered lump of coal, namely the Minerals Council of Australia.
This is like a thousand other photos of politicians donning similar protective garb.  These all seem like desperate claims by desperate men, who are the epitome of the political class ("out of touch") using props to try to build to their constituents, earnestly proclaim themselves to be "real," "tough"  and 'authentically working class.'
Climate Change is making us all anxious (if not terrified). These claims to authenticity, 'common sense' and machismo, are the devices that our politicians deploy to calm us (and perhaps themselves?). It's not so much 'virtue signalling' but 'virtuoso signalling' – a claim to competence and hard-headness to see us through the tough times ahead. Given the vicissitudes of the policy-making "process" and the super-wicked nature of the problems, such performances are unsurprising.   What is perhaps surprising that it politicians seem to think that it still works.